Back to list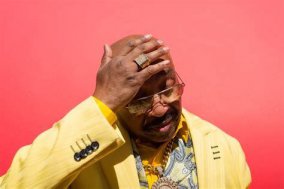 SWAMP DOGG
Booking Germany : manon.lehir@your-european-stage.com
France & Germany
Jerry Williams Jr.
Raunchy, satirical, political, and profane, Swamp Dogg is one of the great cult figures of American music. The creation of Jerry Williams, Jr., an R&B producer and songwriter who first found success in the '60s, Swamp Dogg fits no tidy category.

In sheer musical terms, most of Swamp Dogg's work is pure Southern soul, anchored on tight grooves and accentuated by horns. But Swamp Dogg already shows a certain inclination to drum machines and synthesizers from 1989 with the hits " I Called for a Rope " and " They Threw Me a Rock ". In 2018, the 76-year-old soul man offers his audience electronic beats in his album " Love, Loss and Auto-tune ", in which he releases the single " I'll Pretend " with the famous indie-folk band Bon Iver.

The artists brings together not only musical worlds, but also generations. The Dogg is as much about message as music; Williams incorporated all the mind-bending psychedelic ideas of '60s counterculture -- drugs, sex, radical politics, social politics -- into the framework of deep soul, establishing his blueprint on 1970's…

His last album « I need a job... so I can » is a return to the fundamentals of Southern Soul: like an opening to retro-soul.