Back to list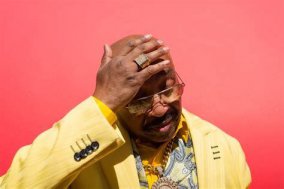 SWAMP DOGG
Booking : gilles@your-european-stage.com
Jerry Williams Jr.

Sometimes raunchy, sometimes satirical, sometimes political, sometimes profane, Swamp Dogg has been blurring the lines between Blues and Soul in the American music industry for 65 years.

Jerry Williams Jr. was first a successful R&B producer and songwriter in the 1960s.
Later known as Swamp Dogg, he didn't fit into any neat categories.
From pure soul where he incorporated all the mind-blowing psychedelic ideas of the 60s counterculture, through drum machines and synthesizers from 1989 onwards, he then dives into eccentric electronics and Auto-Tune in 2018.
Today, he returns with a deeper, more composed soul.
Is this a return to the fundamentals of Southern Soul, of which he is said to be the inventor?

Whatever the case, Swamp Dogg will always be as much about the message as the music. Drugs, sex, radical politics, social politics, fed on Soul and Blues, spiced up according to his life.