Back to list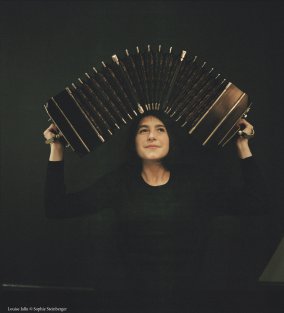 LOUISE JALLU
Management & booking
International booking : manon.lehir@your-european-stage.com
World
Louise Jallu

With more than twenty years of bandoneon behind her, Louise has already proven her legitimacy as an accomplished musician in France.
She started her music career very young, when she joined the conservatoire (the French National School of Music) in the north of Paris at the age of 5. The young girl, lulled by the sounds of Bartok and Piazzolla at home, developed her curiosity for different kinds of music thanks to the institution founded by Bernard Cavanna,  but also delved deeper into the rich fabric of tango, her passion, which later became a profession.

During her training, she learned from great peers considered among the best experts such as César Stroscio and Juan José Mosalini. They provided her the fundamental qualities needed to make herself a name in the tango circle: she masters the history and the instrument without resorting to simple mime.

Driven by this gift of universality, Louise Jallu cultivates a desire for experimentation while rooting herself in a long tradition. She walks in the footsteps of her mentors (Anibal Troilo, Astor Piazzolla, Maximo More or Dino Saluzzi) and shapes herself a singular personality in a rather masculine milieu.

Year after year, Louise develops her career on the international level. She obtains her music diploma and wins the second prize in the solo bandoneon category of the International Competition of Klingenthal (Germany). She's not even 18 when she decides to create her own group, the Louise Jallu Quartet, while accumulating collaborations of all kinds: with the Greek singer Katerina Fotinaki, Sanseverino, with jazzmen such as Claude Barthélémy and Claude Tchamitchian, and the Argentinian virtuoso, Tomas Gubitsch.

She released her first album « Francesita » in 2019, inspired by a book by Albert Londres, about white woman slavery, and by the music of Enrique Delfino, the famous Argentinian tango pianist. She produced a performance around this album at the Café de la Danse.

Her second album, released on the 15.01.2022, is an ambitious and modern adaptation of Astor Piazzolla's music. « Piazzolla 2021 » has been widely acclaimed by the national and international press.




Resident at LA VILLA MEDICIS in January 2022
Nominated for the Victoires du Jazz 2021, category Revelation (PRIX FRANK TÉNOT)
Second prize for the International Competition of Klingenthal (Germany), category solo bandoneon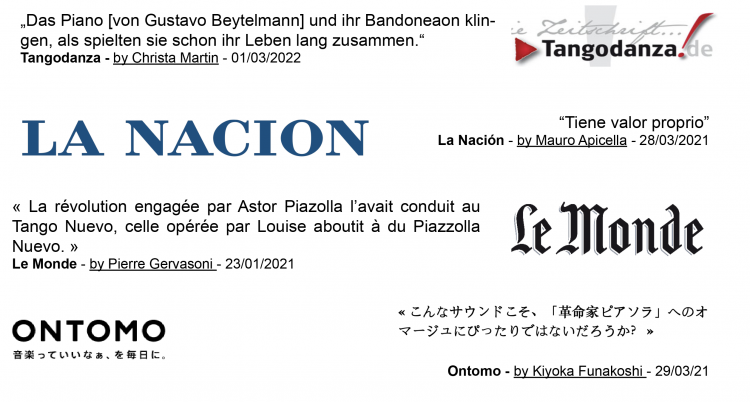 Dates
| | | | |
| --- | --- | --- | --- |
| Date | City | Place | Country |
| 2023-03-11 | Villeneuve d'Ascq | Villeneuve d'Ascq | France |
| 2023-03-21 | Église Saint-Pierre, Montbrison | Théâtre des Pénitents | France |
| 2023-04-10 | Grenoble | Festival Détours de Babel | France |
| 2023-04-19 | Fessy | Maison des Arts du Léman | France |
| 2023-04-20 | Saint-Gingolph | Espace Horizons Lémaniques | France |
| 2023-04-21 | Lullin | Maison du Arts du Léman | France |
| 2023-05-12 | Cournon-d'Auvergne | La Baie des Singes | France |
| 2023-06-02 | Werdenberg | Festival Schlossmediale | Switzerland |
Past dates (current year only)
| | | | |
| --- | --- | --- | --- |
| Date | City | Place | Country |
| 2023-01-07 | Münster | JazzFestival Münster - COMPLET | Germany |
| 2023-01-20 | Marseille | Cité de la Musique de Marseille | France |
| 2023-02-04 | Bordeaux | Artiste soliste invitée à l'Opéra National de Bordeaux | France |
| 2023-02-05 | Bordeaux | Artiste soliste invitée à l'Opéra National de Bordeaux | France |
| 2023-02-06 | Bordeaux | Artiste soliste invitée à l'Opéra National de Bordeaux | France |