Back to list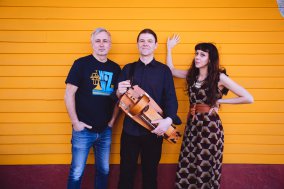 MUDDY GURDY
Booking France/Belgium/Switzerland : melanie@your-european-stage.com
Tia GOUTTEBEL, guitar, vocals / Marc GLOMEAU, percussion, choir / Gilles CHABENAT, hurdy-gurdy
A blues singer-guitarist, a percussionist specializing in Latin rhythms, a hurdy-gurdy player expert in traditional music from central France. At first sight, these three should never have met. And they met, necessarily at the crossroads of different roads, and more precisely on the crossroad of the blues. In the spring of 2017, Tia Gouttebel (vocals and guitar), Marco Glomeau (percussion) and Gilles Chabenat (hurdy-gurdy) set off to record in northern Mississippi, known as « hill country », where kudzu and a form of hypnotic blues once sung by Fred McDowell, Jessie Mae Hemphill, Junior Kimbrough and RL Burnside proliferate. It is an initiatory journey as much as it is ethical.
In Muddy Gurdy, there are always stories of correspondences, between territories, landscapes, times, places and men. In the Creole world, we speak of « péi music ». Muddy Gurdy invents his own « péi music », his intimate and fertile crossbreeding. At this level of correspondence, we can speak of transcendence.
—ALBUM « Homecoming » : release on April 2nd 2021, L'Autre distribution.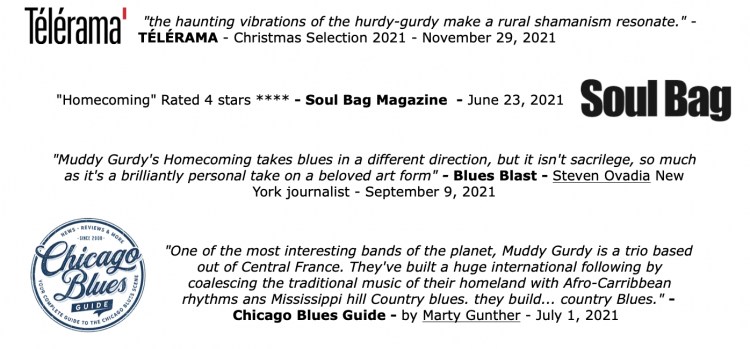 Dates
| | | | |
| --- | --- | --- | --- |
| Date | City | Place | Country |
| 2022-10-01 | Ligné | Centre Culturel le Préambule | France |
| 2022-10-11 | Cournon d'Auvergne | La baie des singes | France |
| 2022-10-13 | Verdun | Festival International Faubourg du Blues | France |
| 2022-11-17 | ¦umperk | Festival Blues Alive | Czech Republic |
| 2023-01-19 | Issoudun | La boite à musique | France |
| 2023-01-20 | Montval-Sur-Loir | La Castélorienne - Centre de Cultures | France |
| 2023-03-03 | Issoire | Animatis | France |
| 2023-03-04 | Le May-Sur-Evre | Espace culturel Léopold Sera Senghor | France |
| 2023-03-10 | Digne-Les-Bains | Centre culturel René Char | France |
Past dates (current year only)
| | | | |
| --- | --- | --- | --- |
| Date | City | Place | Country |
| 2022-03-11 | Wattrelos | Boite à Musiques | France |
| 2022-03-18 | Montbrison | Théâtre des Pénitents | France |
| 2022-04-02 | Talant | Nuit du Blues de Talant | France |
| 2022-04-22 | Tarbes | La Gespe | France |
| 2022-04-23 | Périgueux | Le Sans Réserve | France |
| 2022-05-24 | Coutances | Festival Jazz Sous les Pommiers | France |
| 2022-06-05 | Colmar | Festival Musiques Métisses | France |
| 2022-07-24 | Vaas | Festival Festiloir - Le chainont manquant | France |
| 2022-07-28 | La bourboule | Saison estivale de la Bourboule | France |
| 2022-08-01 | Calvi | La Balagne | France |
| 2022-08-02 | Calvi | Donatéo | France |
| 2022-08-03 | Borgo | La Marana | France |
| 2022-08-05 | Porto-Vecchio | La Pioppa | France |
| 2022-08-06 | Sartène | L'avena | France |
| 2022-08-07 | Porticcio | Marinca Porticcio | France |
| 2022-08-08 | Corte | Hôtel du Fussatu | France |
| 2022-08-09 | Poggio-Mezzana | Poggio Mezzana | France |
| 2022-08-26 | Sucé-sur-Erdre | Festival des Rendez-vous de l'Erdre | France |