Back to list
MUDDY GURDY
International booking : manon.lehir@your-european-stage.com
World
Tia GOUTTEBEL, guitar, vocals / Fabrice BONY, percussion, choir / Gilles CHABENAT, hurdy-gurdy
What happens if traditional Auvergne music meets Mississippi hill country blues? It is worth asking a trio of musicians from France : Tia Gouttebel, a blues singer-guitarist, Fabrice Bonya percussionist specialized in Latin rhythms, and Gilles Chabenat, a hurdy-gurdy player expert in traditional music from Auvergne, France.
In 2017, Muddy Gurdy set off to record their first album in northern Mississippi. It was a kind of initiatory journey into the « hill country » where kudzu and a form of hypnotic blues once sung by Fred McDowell, Jessie Mae Hemphill, Junior Kimbrough and RL Burnside are well known.
Their second album « Homecoming » was recorded in the Auvergne area as a pagan pilgrimage back to their roots. In a barn, in chapels, in the former ballroom of a mountain bistro or with torches in the middle of the night in the crater of a volcano. Homecoming accompanies –and illustrates– a reflection on the similarities between rural music from around the world, but also on the Creole identity, on modernity and the modernization of cultural traditions.
Muddy Gurdy plays with correspondences, with crossroads between territories, landscapes, times, places, people. The three artists create their own world. At this level of correspondence, some would call it transcendence.
The good news is that the group returns in the studio to record their thrid album in Louisiane this time, where multiple local guests will bright us up with their performances. An album we will be able to enjoy in spring 2024!
- Selected for the Folk Alliance Festival in New Orleans in January 2020.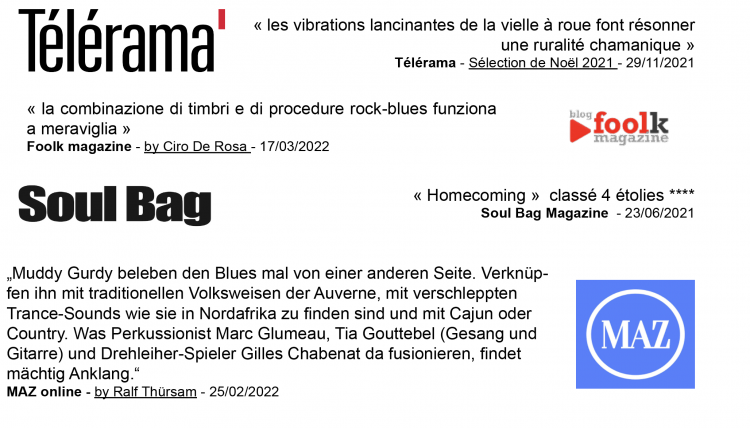 Dates
| | | | | |
| --- | --- | --- | --- | --- |
| Date | City | Place | Country | Booking |
| 2024-01-30 | Dijon | La Vapeur | France | Tickets |
| 2024-01-31 | Paris | La Maroquinerie | France | Tickets |
| 2024-02-01 | Angoulême | La Nef | France | Tickets |
| 2024-02-02 | Cenon | Le Rocher de Palmer | France | Tickets |
| 2024-02-03 | Rouen | Le 106 | France | Tickets |
Past dates (current year only)
| | | | |
| --- | --- | --- | --- |
| Date | City | Place | Country |
| 2023-01-19 | Issoudun | La boite à musique | France |
| 2023-01-20 | Montval-Sur-Loir | La Castélorienne - Centre de Cultures | France |
| 2023-02-11 | Anthisnes | Festival des Anthinoises | Belgium |
| 2023-03-02 | Avermes | Salle Isléa | France |
| 2023-03-03 | Issoire | Animatis | France |
| 2023-03-10 | Digne-Les-Bains | Centre culturel René Char | France |
| 2023-03-31 | Saint-Maurice-l'Exil | Salaise Blues Festival | France |
| 2023-06-10 | St Donat | Centre Culural du Sancy | France |
| 2023-06-23 | Lyon | Musée des Confluences | France |
| 2023-07-07 | Montpellier | Montpellier Blues Festival | France |
| 2023-07-29 | Châtelus | Châtelus | France |
| 2023-07-30 | Vichy | Kiosque Source de l' Hôpital | France |
| 2023-09-16 | Eisenach | Jazzclub Eisenach | Germany |
| 2023-11-24 | Białystok | Jesień z Bluesem | Poland |