Back to list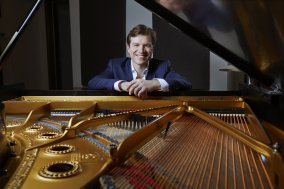 JOACHIM HORSLEY
Booking for Acces Concert
Territories : World (except France)
Joachim HORSLEY

Organising a meeting between classical music and Latin music is a particularly ambitious project, as these two artistic worlds seem to be in opposition. However, this is the crazy challenge taken up by Joachim Horsley, virtuoso American pianist and composer of film music.

PRESENTATION

The origins of this success lie in Joachim Horsley's rich and varied background.
Learning the piano at the age of 5, classical music quickly became part of his first musical emotions. Although he did not enter any music school or conservatory, he developed his playing at home through rehearsals with teachers until he was 14. From then on, his teenage years were marked by the discovery of jazz with famous musicians such as Chris Brubeck (son of Dave Brubeck, to whom we owe jazz standards such as "The Duke" and "In Your Own Sweet Way") and Samuel Adler (German conductor famous for his diplomatic work to bring Germany and the United States closer together after the Second World War).
Finally, it is in a self-taught way that he learns the language of pop, rock and Latin music, expanding at the same time an already rich repertoire of artistic encounters.

A multi-instrumentalist (he masters the piano, but also the guitar, the bass and numerous percussions), singer, author, composer, conductor and arranger, Joachim quickly found an outlet in film music. Originally from Boston, he began his career in Los Angeles, composing for Disney TV series and feature films such as "Ouija", "The Possession", "Rabbit Hole" (starring Nicole Kidman, Aaron Eckhart and Miles Teller) and the documentary film "Great Migrations" broadcast on National Geographic and awarded the Documentary Emmy for the music! In total, Joachim has participated in over 30 short and feature films.

ALBUM

Building on this success, Joachim continues to work on all the great European composers, be they German, French, Russian, Austrian (from the 18th, 19th or 20th century), on all styles of Latin music (salsa, rumba, Cuban jazz, Venezuelan music...). A bubbling creative magma that leads him to his first EP in October 2018 and the preparation of his first live album.

"Via Havana" is therefore not a simple album of covers. It is a project as singular as it is unclassifiable. An ambitious musical concept that aims to reconcile two musical universes that everything seems to oppose. Listening to these 10 tracks, one rediscovers both the astonishing lightness of classical music - too often wrongly considered as hermetic and elitist - and the harmonic and rhythmic richness of Latin music, far from the clichés that are sometimes scorned against it. The symphonies of Beethoven and Shostakovich then start dancing to the rhythms of the rumba, while the works of Malher, Mozart and Rimsky-Korsakov strut their stuff to Latin jazz tunes, offering the public a unique encounter between Europe and Havana.