Back to list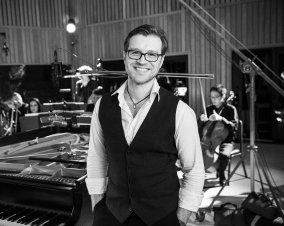 JOACHIM HORSLEY
Booking for Acces Concert
Booking : gilles@your-european-stage.com
Joachim HORSLEY
Joachim Horsley is a composer, Steinway endorsed pianist, and arranger living in Los Angeles, California, USA. His VIA HAVANA videos, where he performs new arrangements blending great works of classical music with afro-carribean rhythms, has been viewed millions of times online garnering him international attention. In 2018 he performed to full houses with the National Symphony Orchestra (NSO) at the Kennedy Center and with his band at the prestigious Folie Bergere in Paris, France. His Via Havana EP is released on La Cafe with an upcoming full album release in early 2019. 
He recently composed the original score for the Disney animated series "Big City Greens," and the 2018 feature films "2307: Winter's Dream" and "Guys Reading Poems" (starring Patricia Velasquez). Other recent projects include arranging for Michael Bublé, John Legend's "All of Me" tour, and orchestrating Ben Folds' Piano Concerto. Working with composer Anton Sanko, Horsley orchestrated and conducted the score for the films "Ouija," "The Possession," and "Rabbit Hole" (starring Nicole Kidman and Aaron Eckhart), as well as the TV series "Great Migrations," which aired on the National Geographic Channel and won a News and Documentary Emmy® for music and sound. He has created the scores for over 50 film and television projects. 

ALBUM

Strengthened by this success, Joachim continues on his path, summoning all the great European composers, whether German, French, Russian, Austrian (from the 18th, 19th or 20th century), on all styles of Latin music (salsa, rumba, Cuban jazz, Venezuelan music...). A bubbling creative magma that leads him to his first EP in October 2018 and the preparation of his first live.
"Via Havana" is therefore not a simple album of covers. It is a project as singular as unclassifiable. An ambitious musical concept that aims to reconcile two musical worlds that everything seems to oppose. Listening to these 10 tracks, one rediscovers both the astonishing lightness of classical music - too often wrongly considered as hermetic and elitist - and the harmonic and rhythmic richness of Latin music, far from the clichés sometimes contemptuous of it. The symphonies of Beethoven and Shostakovich start to dance on rumba rhythms, while the works of Malher, Mozart and Rimsky-Korsakov strut on Latin jazz tunes, offering to the public a unique meeting between Europe and Havana.