Back to list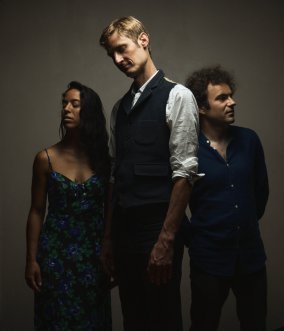 GOODBYE JUPITER
Agent, Production, Booking
Booking France : melanie@your-european-stage.com
Booking world (except France) : hannah@your-european-stage.com
Hannah AL-KHARUSY / Guilhem KALTENBACH / Arnaud BONNET
Goodbye Jupiter is the expression of strength through fragility, the starkness that transforms into light, a certain vision of beauty derived from what is felt; from what is human.

Guilhem Kaltenbach, composer and producer of Goodbye Jupiter incorporates fingerpicked hollow body string instruments to make lush textures and intricate arrangements creating a variegated sonic voyage. The result is an experience that is at once accessible, engaging, sensual and mind-numbing. The group's intensely emotional shows are an exercise in intimacy, a space for the artist and audience to share their vulnerability through music. They have played at the famous Sunset-Sunside Jazz Club in Paris, the classical music festival in Pompignan, Festival d'Avignon, and will be playing at the renowned Bellevilloise in Paris the 19th of November 2021.

Guilhem and his team of fellow craftsmen and musicians put on a transfixing performance. With just a piano and two stringed instruments, Goodbye Jupiter knits harmonies and melodies to create a familiar yet new place for the audience to explore.
ALBUM
Silk Paper does curious things to our notion of time. The first album by Goodbye Jupiter takes the listener's through an oneiric landscape, leaving the subconscious to wonder. When the track the Bridge opens, you are fully emerged as the innocent progressions tug on a few inner strings. Weaving you through the past, present and future, Silk Paper is a nostalgic, hopeful parenthesis in our intense and fast-paced lives.