Back to list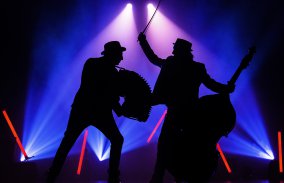 DYAD
Booking
International booking: manon.lehir@your-european-stage.com
France, Germany, Austria, Scandinavia
Dyad is a bewildering yet seductive encounter, blending lifes and music perceptions.
This meeting is between one of the diatonic accordion biggest pioneers in Belgium Didier Laloy and the French double bassist Adrien Tyberghein, who played with renowned artists in the classical, jazz and contemporary music fields (Manu Katché, Ibrahim Maalouf, Gautier Capuçon,…).
Together, they combine traditional, classical, rock and electro music to create a very their very own eclectic jazz . Their repertoire is made up of innovative music, revealing the richness of their collaboration. Didier dreamed of shaking the hands of a symphony conductor on stage and Adrien dreamed of improvising on traditional themes from abroad. Both dreams come came true in this atypical, visceral and resolutely duo.  
From crazy rhythms to expressive melodies, these compositions take the audience to the crossroads of different realms. The rhythms of the double bass and the melodies of the accordions are conversing in sometimes a frenzied waltz, sometimes in intimate confession, going from emotions to emotions with the audience.
Adrien Tyberghein
Adrien is a French musician and composer. He works with renowned ensembles such as the Opéra National de Paris and the Ensemble Intercontemporain. He has also played with renowned artists in the fields of classical music, jazz and contemporary music (Manu Katché, Ibrahim Maalouf, Gautier Capuçon, etc.). These projects have led him to discover his own path and to devote himself mainly to the double bass as soloist, chamber musician and composer. Adrien pushes the limits of his instrument in original and unexpected ways. France Musique describes him as a musician who "revives an obviously dusted-off classical world. An intense personality that brings about this unexpected crossroads".
Didier Laloy
Didier started playing the diatonic accordion at the age of 13, and has taken part in numerous courses with Bruno Le Tron, Marc Perrone and Jean-Pierre Yvert. For several years now, he has been regarded as one of the most active representatives of the diatonic accordion revival in Europe.  His ease on stage, his ability to tackle all musical genres and his human qualities have made him a much sought-after musician (he has played on no fewer than 150 albums). He also remains one of the most creative figures of his generation. Constantly on the move, his universe draws its strength from endless generosity. He is the driving force behind a number of new creations/groups, including [Pô-Z]s, Noir's, Couturière, S-Tres, Sa- muraï, Trio Trad, Tref, Belem, Belem & The Mekanics...