Back to list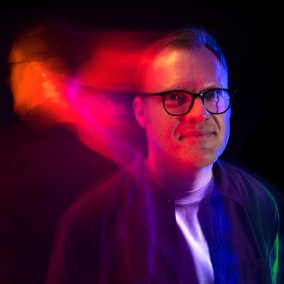 CÉDRIC HANRIOT
Booking
International booking : manon.lehir@your-european-stage.com
World
Cédric Hanriot is an award winning pianist, composer, arranger, sound designer, and music producer.  After a successfull carreer as a pianist, he went with at the age of 31 to Boston to benefit from the teaching of Terri Lyne Carrington, the drummer of Herbie Hancock and Wayne Shorter, winner of three Grammy Awards. In 2011, Terry Lyne Carrington co-produced the first solo album of Cédric Hanriot: "French Stories", released with John Patitucci on bass.
After this, Herbie Hancock himself invited Cédric Hanriot to come to his studio in Los Angeles to assist him for a month in preparation for his solo piano world tour in 2012.
Cédric Hanriot would later serve as pianist and sound designer on Dianne Reeves's album Beautiful Life, which won the Grammy Award for Best Jazz Vocal Album in 2015.

During these years, the sound designer Cédric Hanriot has been able to sharpen his unique style that incorporates acoustic elements (acoustic piano, prepared piano) as well as electronic elements (vocoder, sound design, prepared piano).

This is exactly what relates his last album « Time is color », released on September 09, 2022 (Morphosis Arts/Inouie Distribution). This new album is a powerful mixture between jazz and urban sound. Cédric Hanriot collaborates with different rappers like Charles X or Tony Moreau to add a voice dimension to his partition. Between acoustic instruments (piano, double bass, drums) and electronic textures, the music of this project has an almost cinematic dimension.

With this album, the artist wanted to share his own perception of time and to offer to the audience a time-lapse to think. We can perceive a moment as long or short, whereas "objective" time is not so abstract. That thought really got him to try to write tunes that would translate these thoughts and feelings into music.
Herbie Hancock kept in touch with Cedric Hanriot over the years and was really enthusiastic about the album Time is color.  He said : "I heard the whole album "Time is Color" twice so far and new elements continue to unfold. It's truly terrific.The music material and the approach are groundbreaking."
The band likes to build relationships within local communities in ways that go beyond the actual concerts themselves. There is the possibility to invite them for a masterclasses / workshops and they are always more than happy to offer any type of musical exchange / collaboration with local music schools.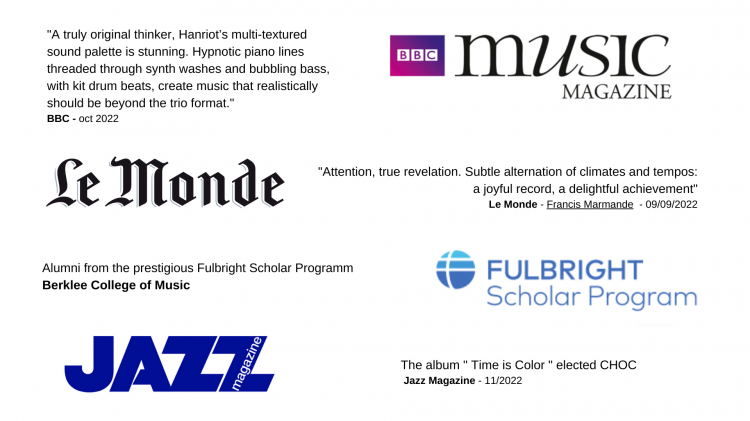 Dates
| | | | | |
| --- | --- | --- | --- | --- |
| Date | City | Place | Country | Booking |
| 2024-02-02 | Kolding | Kolding Festival | Denmark | Tickets |
| 2024-03-23 | Versaille | Versailles Jazz Festival | France | |
| 2024-05-15 | Longjumeau | Longjumeau Festival | France | |
| 2024-05-24 | Paris | La Gare/Gore | France | |
| 2024-05-25 | Paris | La Gare/Gore | France | |
| 2024-07-07 | Pont-à-Mousson | | France | |
Past dates (current year only)
| | | | |
| --- | --- | --- | --- |
| Date | City | Place | Country |
| 2023-01-24 | Freibourg | IKF | Germany |
| 2023-01-27 | Zurich | Moods | Switzerland |
| 2023-02-04 | Paris | Conservatoire de Malakoff | France |
| 2023-02-06 | Paris | Studio de l'Ermitage | France |
| 2023-02-11 | Conflans Ste Honorine | Festival Jazz au Confluent | France |
| 2023-03-01 | Rome | Alexanderplatz Jazz Club | Italie |
| 2023-03-02 | Rome | Alexanderplatz Jazz Club | Italie |
| 2023-03-03 | Rome | Alexanderplatz Jazz Club | Italie |
| 2023-03-25 | Paris | Conservatoire de Malakoff | France |
| 2023-04-14 | Paris | Conservatoire de Malakoff | France |
| 2023-04-17 | Paris | Conservatoire de Malakoff | France |
| 2023-05-19 | Tübingen | Jazzclub Tübingen | Germany |
| 2023-05-20 | Saarbrücken | Ketten Fabrik | Germany |
| 2023-05-27 | Marly | Marly Jazz Festival | France |
| 2023-06-23 | Düren | Jazztage Düren Festival | Germany |
| 2023-06-25 | Paris | La Gare/Le Gore | France |
| 2023-06-30 | Vienne | Jazz à Vienne Festival | France |
| 2023-07-06 | Pruntova | Vonge Festival | Estonia |
| 2023-07-07 | Thionville | JazzPote Festival | France |
| 2023-07-09 | Furdenheim | Festival Vents D'Est | France |
| 2023-07-28 | Marciac | Jazz in Marciac | France |
| 2023-07-29 | Marciac | Jazz in Marciac | France |
| 2023-08-27 | Paris | Festival Art District | France |