Back to list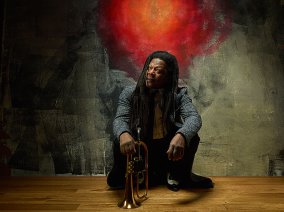 BONEY FIELDS
Booking
International booking : manon.lehir@your-european-stage.com
World
BONEY FIELDS trumpet & lead vocal / guitar / drums / bass / keyboards / saxophone / trombone
Boney Fields is a blues & funk singer born in Chicago in a family of musicians: his father was a gospel guitarist and his mother sang in the Church. Boney Fields faithfully merges Funk and Blues, the two sides of the same Great Black Music, with all the know-how of a career spent touring  around the world, with playing partners such as Lucky Peterson, Luther Allison, James Cotton, Buddy Guy, Liz Mc Comb, as well as George Clinton, Maceo Parker, Fred Wesley or Bootsy Collins.Far from Tinseltown glitz and glam, it is on stage that Boney Fields learned the profession and enriched his artistry, where he finally carved his own style,  as a retro-futuristic mix of Blues and Brass Funk, a genuine aesthetics that he deploys on records as well as on stages with his own band, an explosive septet who mastered the magical formula of the groove.
Everywhere they go Boney Fields & his Band leave like a highly energetic and exhilarating streak of powder. 
New Album : Just Give me Some Mo' (release 13th of october 2023)
What is an artist worth if he doesn't get on stage? While the international health crisis forced the world to question the meaning of priorities in the heavy silence of a generalized quarantine, Boney Fields was already thinking about the next step.

The musical texture of this new record resurrects the glitter of the great bands of yesteryear when the brass instruments majestically supported the guitar solos and the vocal prowess of the blues artists. "Cross My Heart", an homage to harmonica player and singer James Cotton, one of Boney Fields' heroes and fellow road travelers, is certainly the track that most represents the hectic groove mood that authentic blues musicians know how to instill. Boney Fields has in him this almost funk tone matured enough to titillate our ears and make us tap our feet. For example, in revamping "The Thrill Is Gone", in the spirit of its original author Roy Hawkins, Boney Fields perpetuates the tradition of the fiery orchestras of the past without altering the modernity of its irresistible tempo.

Much more personal than any of his previous albums, "Just Give Me Some Mo" is also an expression of introspection, that of a man who remembers without drowning in dark nostalgia. He thinks of his mother's courage bravely confronting the obstacles in an unequal America. "Back in the Day" is not a sad song. It is empowering and nurtures faith in the future. This melody is certainly the most touching of the six compositions written by Boney Fields.

Boney Fields chose to let his soul speak. This effort of truth had to be absolutely supported by the artistic direction of a goldsmith. In calling upon Sebastian Danchin for the production of this album, Boney Fields consulted with a historian of African-American culture whose sharp ear has already conquered Little Milton, Mighty Mo Little Milton, Mighty Mo Rodgers, Toni Green and Jean-Jacques Milteau, among others. Their exchanges brought to light a perfect blend of the "Chicago Blues" whose brassy potency they experienced live 40 years ago.
Past dates (current year only)
| | | | |
| --- | --- | --- | --- |
| Date | City | Place | Country |
| 2023-02-11 | Paris | Jazz Club Étoile | France |
| 2023-02-17 | Athens | Half Note Jazz Club | Greece |
| 2023-03-18 | Montpellier | Le Jam | France |
| 2023-06-16 | Caslano | Caslano Blues Festival | Switzerland |
| 2023-06-23 | Düren | Jazztage Düren Festival | Germany |
| 2023-07-22 | Poutay | Jazz'n Bruche | France |
| 2023-07-29 | Châteauneuf-du-Faou | Fest Jazz | France |
| 2023-08-10 | Ulbroka | Solo - Ulbrokas Pērle | Latvia |
| 2023-08-11 | Rēzekne | Solo - Latgales Vēstniecība GORS | Latvia |
| 2023-08-12 | Saulkrastu | Solo - Saulkrastu Ostas svētki | Latvia |
| 2023-08-13 | Liepāja | Solo - Lielais Dzintars | Latvia |
| 2023-08-19 | Aglientu | Aglientu Summer Blues Festival | Italy |