Back to list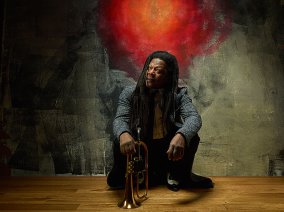 BONEY FIELDS
Booking
International booking : manon.lehir@your-european-stage.com
World
BONEY FIELDS trumpet & lead vocal / guitar / drums / bass / keyboards / saxophone / trombone
Boney Fields, the missing link between Lucky Peterson, James Cotton and Trombone Shorty
"Real music by real musicians" as Prince used to say.
Just like Prince, the singer and trumpet player Boney Fields is part of this generation of African-American musicians born to tame the stage.
Boney Fields faithfully merges Funk and Blues, the two sides of the same Great Black Music, with all the know-how of a career spent touring  around the world, with playing partners such as Lucky Peterson, Luther Allison, James Cotton, Buddy Guy, Liz Mc Comb, as well as George Clinton, Maceo Parker, Fred Wesley or Bootsy Collins.
Far from Tinseltown glitz and glam, it is on stage that Boney Fields learned the profession and enriched his artistry, where he finally carved his own style, a retro-futuristic mix of Blues and Brass Funk. A genuine aesthetics that he deploys on records as well as on stages with his own band, an explosive septet who mastered the magical formula of the groove. Everywhere they go Boney Fields & his Band leave like a highly energetic and exhilarating streak of powder.
A relentless showman, Boney Fields makes his music travel in each and every corner of the planet. And it is on those same stages that one will have to come and see him play his new collection of "real" songs performed, as Prince used to say, "by real musicians".
Tour references :

Tours in around thirty countries
Jazz à Vienne
Tanjazz - Tanger
New Morning - Paris
Barriere Enghien Jazz festival - Enghien Les Bains
La Traverse - Cléon
Rhino jazz Festival - Rive De Gier
Les Rendez-vous de l'Erdre - Nantes