Mathis Haug en concert au New Morning le 20 avril 2017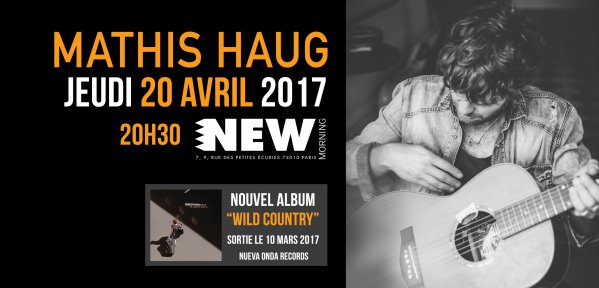 Mathis Haug en concert au New Morning le 20 Avril 2017
avec son nouvel album : "WILD COUNTRY" (Nueva Onda Records)
En restant fidèle à l'esprit de spontanéité et d'intuition propre à une forme d'Art brut poétique héritée de Bob Dylan, Tom Waits ou John Cougar Mellencamp, Mathis Haug se lance avec ce projet dans une démarche novatrice qui réconcilie son héritage premier, celui des musiques premières américaines, avec l'esprit d'une société en plein questionnement.
À l'heure de la crise, il nous interroge avec une fausse naïveté lumineuse sur les questions qui traversent notre quotidien : la place des migrants qu'il décrit sans nostalgie ni pathos inutile dans Luigi (que Mathis interprète en allemand, sa langue maternelle), le désir de métamorphose qui pousse beaucoup d'entre nous à vouloir offrir au monde un visage qui ne nous correspond pas (Jimmy the Harp), la nécessité de reprendre la main face aux diktats du système (Big Machine), la renaissance de nos idéaux (Rock 'n' Roll Band), sans oublier la ballade intemporelle qui trouve son aboutissement dans sa vision poétique d'une nature morte amoureuse (Still Life with Smile)…
Le résultat, fulgurant, est proprement inclassable : la musique de Mathis ne ressemble à aucune autre, elle se contente de puiser brillamment dans le patrimoine de la note bleue pour imaginer un prolongement sensible à l'émotion originelle du blues. Une créolisation post-moderne de blues, de folk, de country, de gospel et de rock rustique...
On vous attend le 20 avril pour découvrir l'album et la nouvelle formule scénique :
Mathis Haug: Vocals, Banjo, Guitars & Harp
Christophe Cravero: Fender Rhodes on n°7, Melodica on n°9, Fiddle on n°3&9
Stephan Notari: Drums, Percussions & Backing Vocals
Benoît Nogaret en guest : guitar
Un teaser en avant goût : ici 
Published : 2017-04-10